Special offer - $ 19 only!
Fully responsive material/flat design theme with Unlimited colors and a lot of different options.
This theme you can use if your site is for users: from several countries, one country or one city.
1. Full Responsive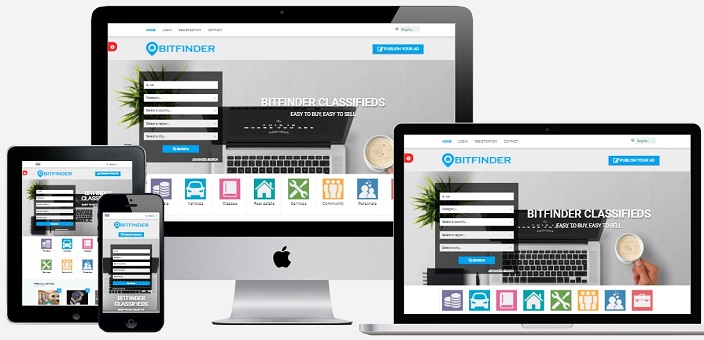 2. Bootstrap , HTML5, CSS3, HIGH SPEED, CROSS BROWSER
3. Unlimited colors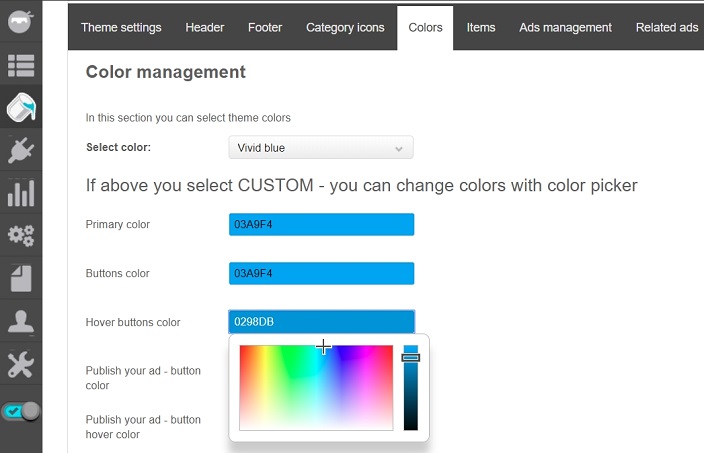 Ten finished color themes: vivid blue, bordeaux, orange, mango dark, deep blue, light green sea, orange-red edge, bright blue-red, teal green-red, vivid blue-red.
And CUSTOM: in this option you can select unlimited colors with Color Picker ( Primary color, Buttons color, Publish ad button color and hover for this buttons). Screenshot:
4. Main page search can be configured to use
Select Country - Region - City (since 1.2.1)
Select Region - City (since 1.2.1)
Search in all regions
Search in regions only with items
Search in All cities ( It is advisable to use if you have a few regions or one. If you have a lot of regions - the main page will be a long time to load.)
Search in Cities with items only
Search in Countries with items
Hide locations search
5. Enable/disable City input from advanced search.
6. Item-post page options
Enable/disable all locations
Enable/disable country select
Show custom field after categories or at bottom
7. Сarousel in the main page with custom settings:
select number of items to show in carousel from theme settings
select to show premium or popular items
hide carousel
8. Social networks
Share buttons in item page.
Links to you social pages in footer ( past from theme settings)
9. Custom Text(can be with HTML tags)
Custom Welcome text in Main Page. Text paste in theme settings or disable.
Two blocks in main page for Text. These blocks can be used for seo text. Or it could be text for visitors.
Text on category pages. These blocks can be used for seo text. Or it could be text for visitors.
10. Advertise Managment
From theme settings for platforms, such as Google Adsense.
11 . Related ads
Related Ads in item page.Related Ads function allows to set to the administrator various settings:
number of relates ads in item page;
ads with photos only оr not;
ads only from the same region оr not;
ads only from the same same categoryоr not;
Premium ads only or not;
Any combination of the previous functions for Related Ads
12. Gallery and List View
The administrator can choose - as will be shown by default.
13. Custom background for main page Search
Now you can upload/replace background image from theme settings.Or just select color with colorpicker
14. Custom Copyright
Custom copyright in footer from theme settings.
15. Widgets
Two widget in footer. Here you can insertany widget that you want, or just text.
16. Icons for categories
Can be replaced (or upload for new categories) from theme settings.
Disable/enable: category icons in items
17. Disable/enable mark as and useful block in item page.
18. Disable/enable categories in main page.
19. Very Easy to install.
No need edit the code. No need plugins to install theme.
20. Translated: English, Spanish(Spain), Portuguese(Brazil), Portuguese(Portugal), Russian, German, French, Italian.
And full ready to translate to any other language. It is very easy to do:https://doc.osclass.org/Translating_and_editing_language_files_%28.po_and_.mo%29
Changelog
1.3.0
- Bxslider changed to Swiper slider
- Minor fixes
1.2.1
Minor fixes
Style improvements
New functions for main page search
New main page header image ( old img saved in theme folder /img/old_main/)
New Paralax option for main page image
Translate update
1.1.3
Improved styles
Reduced CSS and JS for speed
New Photoswipe gallery in item page
Check out our other products and offers:
SEO PRO
Osclass SEO PRO plugin will help you optimize site for Search engines like Google and other. Here is everything you need for SEO optimization. Options to edit Title, Description and Keywords for most important pages. Very efficient and functional sitemap generator. With this sitemap generator you can add many urls in sitemap. And Robots.txt editor.
SEO PRO
Ultimate Payments
This is a powerful plugin for earnings from your website. It allows users to pay for site services - Premium, Highlight, Pay Publish, Renew, Move to TOP, Pay Per Images and Pack 3-in-1, Banners, Membership and more... Ultimate payments has the best functionality, better than any other payment plguin in Osclass Market. Osclass Ultimate payments allows you to work with Paypal, Stripe, Skrill, Braintree, 2Checkout, Payumoney, PayU Latam, Fortumo (SMS payments, work only in Wallet), Blockchain (Bitcoins) and will be more! Depending on your country, you can accept payments with Paypal, Bank Cards, Mobile SMS, Bitcoins and Local Banking..
Ultimate Payments
Special offer:
Pack: Bitfinder Theme + Ultimate payments + SEO PRO with discount !
Pack: Bitfinder + Ultimate payments + SEO PRO